To use the Microsoft Outlook email client to access your CoadCorp-powered email, refer to the following screenshots to help fill out the settings.
Firstly, open Outlook.  If this is the first email account you have configured on your computer, the Add Accounts wizard will launch automatically.  Otherwise you will need to create a new mail profile via the Mail icon in Control Panel.
Select the account type as IMAP and click Next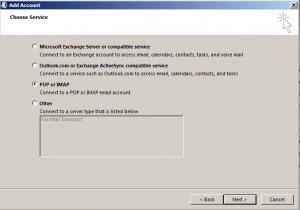 Fill in your account information.  Use the following settings:
Email Address – the email address you have been given by your administrator (or created via our control panel)
Incoming Mail Server – mail.coadcorp.com
Outgoing Mail Server – mail.coadcorp.com
User Name – same as your email address
Password – the password you have been given by your administrator (or set via our control panel)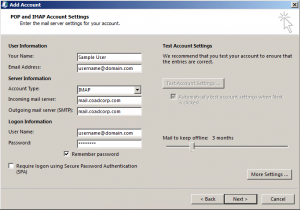 Now click on More Settings.
Under the Outgoing Server tab, make sure that "My outgoing server (SMTP) requires authentication" is ticked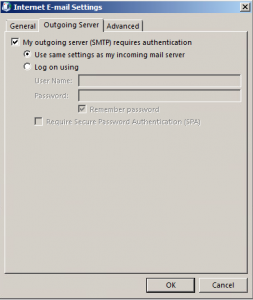 Under the Advanced tab, ensure that the encryption for incoming and outgoing is set to use TLS.  Leave the default IMAP port, but we recommend changing the outgoing server port to 587, since ISPs often block outgoing port 25.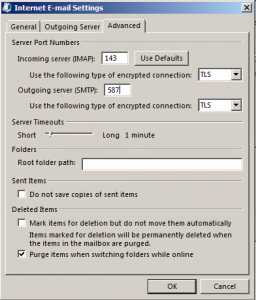 Click OK, then you'll be back at the Add Account screen.
When you click Next, Outlook will test logging into the email server to receive and send a test email.  This should complete successfully.  If it fails, we recommend re-typing your username and password, and double checking that your username field matches your email address field.  If this is entered incorrectly too many times, our security filters will temporarily lock out your account for 30 minutes.
FAQ
I logged in successfully but my mailbox is empty!
Outlook 2013 contains a bug where the root folder is not detected automatically. You will need to update that manually in order to see your inbox. To set the root folder path for your IMAP account:
File-> Account Settings-> Account Settings…
Double click on your IMAP account.
Button: More Options…
Tab: Advanced
Option: Root folder path
Set this to "Inbox" (without the quote marks)
OK yourself out all of the opened dialogs